Townsville and surrounds Flood Warning Infrastructure Network
Project purpose
The purpose of the Townsville and surrounds Flood Warning Infrastructure Network (FWIN) Project is to analyse existing flood warning infrastructure, and work with the Bureau of Meteorology and local communities to identify high priority locations requiring additional flood warning infrastructure capability.
Background
The Townsville and surrounds FWIN Project helps support Queensland communities in their recovery following the North and Far North Queensland Monsoon Trough disaster event (25 January to 14 February 2019).
The $8 million FWIN Project was approved as part of the $242 million Category C and D Disaster Recovery Funding Arrangements (DRFA) package, jointly funded by the Australian and Queensland Governments. The project covers three areas of operation: Far North Queensland; North West Queensland; and Townsville and surrounds.
Area of operation
The Townsville and surrounds FWIN Project area of operation includes the following local government areas:  
Burdekin

Charters Towers

Mackay

Hinchinbrook

Townsville

Whitsunday.
Other Townsville and surrounds FWIN Project partners include: The Bureau of Meteorology (BoM); Queensland Reconstruction Authority (QRA) and the Department of Transport and Main Roads (TMR).
Project benefits
The Townsville and surrounds FWIN Project is keeping our communities safe by delivering:
suitable flood warning infrastructure upgrades to the most appropriate locations throughout the flood-impacted area

improvements to Bureau of Meteorology services to support primary producers and communities

a range of assets to support better information being made available including the use of flood cameras at strategic locations.
Key project actions
Key project actions for the Townsville and surrounds FWIN Project are to:
facilitate a catchment approach - locally led, regionally coordinated

define flood warning infrastructure as means for providing situational awareness

incorporate existing initiatives into one common operating picture

analyse existing infrastructure upgrade initiatives against identified risk areas

identify gaps in the flood warning infrastructure network

develop and apply principles for prioritisation across the areas of operation

prioritise flood warning infrastructure improvements across the areas of operation

support procurement of infrastructure

establish / align with emerging governance arrangements.
Key statistics
The Townsville and surrounds FWIN Project will have a total of 61 flood warning assets to be installed that will benefit the six LGAs.
Standards
All of the new infrastructure investment to be sent to the Bureau for the Townsville and surrounds FWIN Project will conform to the National Flood Warning Infrastructure Standard and work aligns with the National Framework for Flood Warning Infrastructure. Townsville City Council have also been funded to trial a range of low cost flood gauges in certain locations to satisfy local needs and to improve situational awareness. To ensure value for money in the delivery of the program, a group procurement arrangement has been established.
The flood camera infrastructure will conform to the TMR standard, and it is expected the cameras will be able to be incorporated into both the Queensland Traffic website and council disaster dashboards.
Governance
The Townsville and surrounds FWIN Project will is being overseen by a Project Manager, and supported by Townsville City Council as the coordinating authority.
Project Manager
The Project Manager will oversee the delivery of gauges in the area.
Jo Coleman
Townsville City Council
Phone:  07 4727 8581  
Mobile:  0407 629 182   
Email: jo.coleman@townsville.qld.gov.au
Progress
Activities complete 

Stakeholder consultation to determine priority locations

Review of local government flood warning investment plans
Based on stakeholder feedback received and an independent review, prioritised a list of flood warning locations and assets
Asset responsibility and governance arrangements agreed 

with councils

New assets confirmed and accepted by councils following an additional $6 million injection of grant funding across the three areas of operation

6 local governments approved for

61 flood warning assets to be installed

Project Manager appointed

Sites selected and approved

Tender awarded and delivery contractor appointed

Activities underway 
Map
The  FWIN Project map below shows the boundaries of the three areas of operation. The Townsville and surrounds FWIN project area of operation is highlighted in green.  Assets can be filtered by council or asset type. Click on an asset to see details including: asset owner/location/type/code; project manager; and construction status. Each asset will also include a photo upon completion.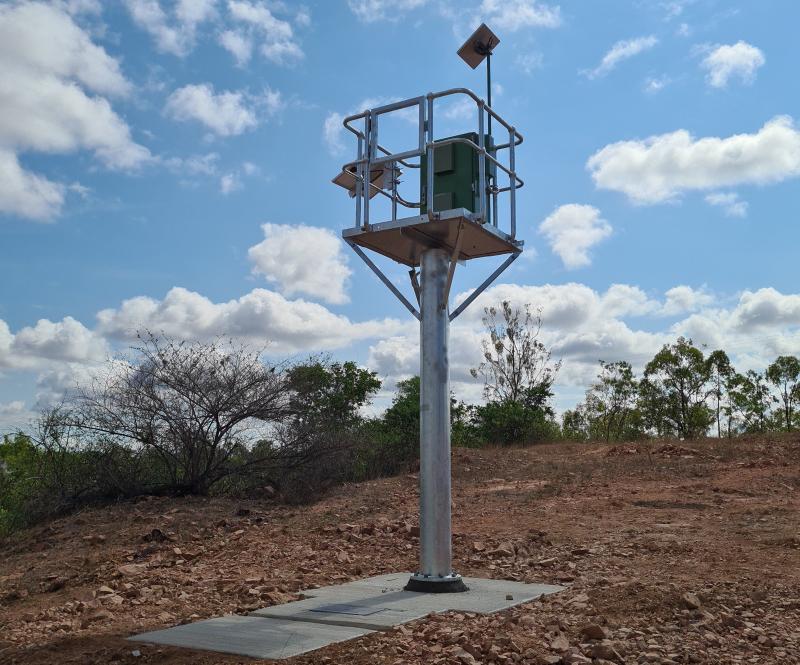 FWIN asset, Burdekin Downs Road, Charters Towers
1/3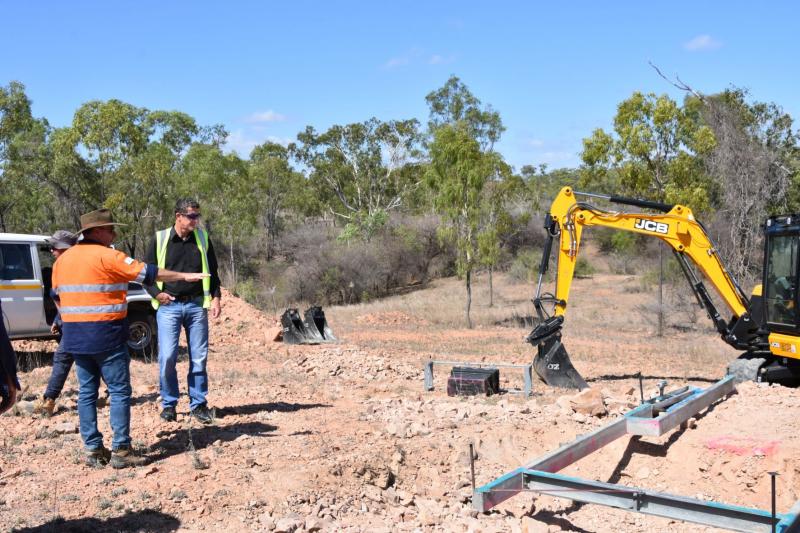 Mayor Frank Beveridge, Charters Towers inspecting works on FWIN project asset at Burdekin Downs Road.
2/3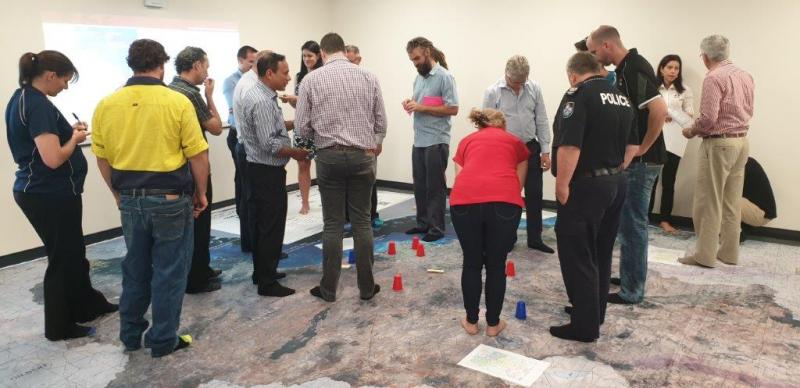 Photo: Townsville and surrounds FWIN Project workshop (2019).
3/3