The Queensland Reconstruction Board
Under the Queensland Reconstruction Authority Act 2011, the key purpose of the Queensland Reconstruction Board (Board) is to oversee the
operations of the Queensland Reconstruction Authority (QRA). The functions of the Board include:
setting QRA's strategic priorities
ensuring QRA performs its function and exercises it powers in an appropriate, effective and efficient way
making recommendations to the Minister about: priorities for community infrastructure; other property and community services needed for the protection, rebuilding and recovery of affected communities; and the need for the declaration of declared projects and reconstruction areas.
Board membership
Membership of the Queensland Reconstruction Board consists of:
Chair, Queensland Reconstruction Authority, Major General R.G. Wilson, AO (Ret'd) BA, MLitt, PhD, MStratStud
Born in Brisbane on 16 January 1955, Major General Richard (Dick) Wilson was an infantryman with extensive practical command experience at all levels from platoon to division. He has served as the Chair of the Queensland Reconstruction Authority since September 2011.
Major General Wilson retired from the Army in January 2012. During his 39 years in the military, Major General Wilson had a wide range of staff appointments, mainly in the areas of operations, plans and strategy. He also served on exchange with the US Army and has operational service which includes assignment with the United Nations Transitional Administration in East Timor (July 2001-March 2002).
Major General Wilson is a graduate of the Royal Military College, Duntroon, the Australian Army Command and Staff College and the United States Army War College. His interests including reading, environmental issues, rugby and keeping fit.
Members
Two members nominated by the Australian Government:

Ms Judith Zielke, C

hief Operating Officer, Commonwealth Scientific and Industrial Research Organisation (CSIRO)

Mr Mark Crosweller,

Head of the National Resilience Taskforce, Australian Government Department of Home Affairs.
One member nominated by the Local Government Association of Queensland (LGAQ):

Ms Margaret de Wit, former President of LGAQ and former Councillor for Brisbane City Council for the Pullenvale ward.
Other members with expertise or experience in engineering, planning or another field considered appropriate by the Minister:

Mr Steve Golding, former Director-General Main Roads
Deputy Commissioner Bob Gee, Queensland Police Service
One member to be nominated and appointed.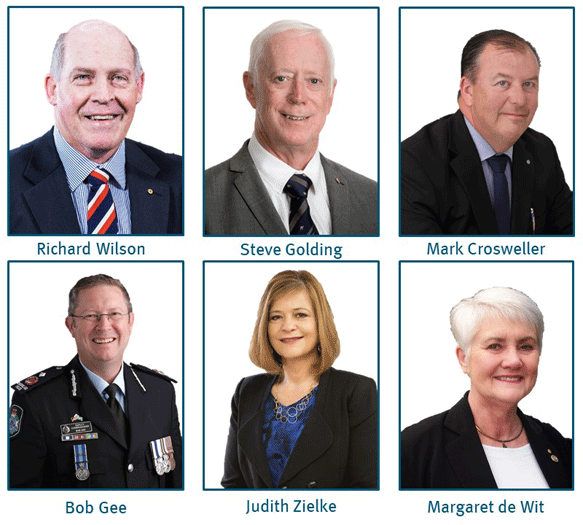 CEO, Queensland Reconstruction Authority, Brendan Moon
Brendan Moon was appointed to the role of Chief Executive Officer of the Queensland Reconstruction Authority (QRA) in June 2016, after acting in the position since November 2015. Prior to this, he was Deputy Chief Executive Officer and has been at QRA since 2011 as General Manager, Operations.
As Chief Executive Officer, Brendan leads the strategic direction of QRA, Australia's only permanent disaster recovery organisation.
This includes the efficient and effective coordination of natural disaster reconstruction efforts across Queensland with administrative responsibility for more than $14.5 billion in restoration funding under the Natural Disaster Relief and Recovery Arrangements (NDRRA) and the State Disaster Relief Arrangements.
He led QRA's Operations for Tropical Cyclones Oswald and Marcia, and state-wide recovery efforts for Severe Tropical Cyclone Debbie, which devastated 36 Queensland communities and was described by the Insurance Council of Australia as the costliest cyclone to impact Australia since Cyclone Tracy in 1974.
In response to the cyclone and flooding events to hit Queensland in 2018, the Premier appointed Brendan to the position of State Recovery Coordinator to lead recovery operations in all impacted areas of the State.
Brendan is also the State Recovery Policy and Planning Coordinator. This standing role's purpose is to lead recovery planning, policy and recovery capability development to ensure better preparedness of government agencies and the community for recovery operations.
Brendan previously held the role of General Manager, Environment, Biodiversity and Sustainability of Wyaralong Dam Alliance, responsible for the procurement and delivery of what was, at the time, the largest vegetation and carbon offset project in Queensland.
Brendan is a graduate of the University of Queensland.