North Queensland Football
28 June 2021
North Queensland Football felt the full fury of the 2019 monsoon trough floods when 750 square metres of floodwaters tore through the fields at Murray Sporting Complex, destroying the clubhouse, canteen, fences and lights.
The organisation received approval for $275,000 in funding under the $18 million Community and Recreational Assets Program, which was approved as an extraordinary recovery measure jointly funded under the Commonwealth-State Disaster Recovery Funding Arrangements (DRFA).
North Queensland Football Chairman John Azpiri said the recovery works also allowed the club to re-create its Football Education Hub, which trains elite players, coaches and referees.
"The clubhouse refurbishments now allow it to double as a function centre with conference facilities, which can be leased out to businesses and sponsors during the day," Mr Azpiri said.  
"We had only recently replaced the lighting in early 2018, and then to see it all destroyed in 2019 was heartbreaking to the members who work tirelessly in this organisation."
The restoration works at North Queensland Football started in August 2019 and were completed by March 2020.
North Queensland Football has an important role to play in the development of junior football talent and in providing opportunities for kids to be active and healthy, with soccer the largest participation sport in the region.
Completed repairs at the North Queensland Football Club
1/2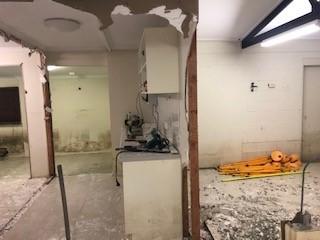 Flood damage to the North Queensland Football Club
2/2