Brisbane River Catchment Flood Studies
On this page:
About the Flood Studies
In May 2017, the Queensland Government released the Brisbane River Catchment Flood Study, the most comprehensive study of its kind undertaken in Australia, to support greater understanding of flood behaviour in the catchment.
The Flood Study, a partnership between the Queensland Government, Seqwater and the four local governments of Brisbane, Ipswich, Somerset and Lockyer Valley, considers a range of factors including location of rainfall, ground conditions, sea levels and dam water levels.
Image: Brisbane River Catchment Flood Study area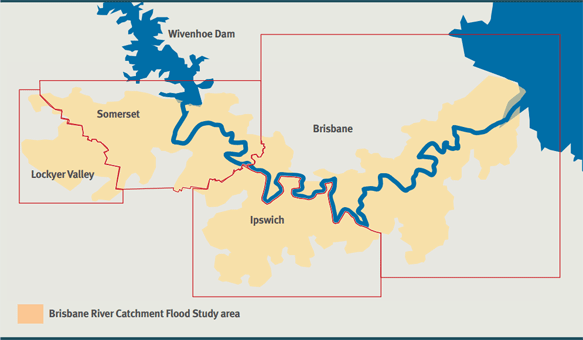 Flood Study animated video
VIDEO: Watch the Flood Study animation (2 minutes 53 seconds) to find out more about the purpose of the Flood Study and how the Brisbane River Catchment works.
The Flood Study area includes parts of the Brisbane River catchment, with a focus on flooding events downstream of Wivenhoe Dam including the Brisbane River, Lockyer Creek and the Bremer River system.  The following fly-through uses the data from the Flood Study modelling to replicate the peak flood flows and timings experienced during the 2011 floods. 
Flood Study overview and fact sheet
Two major components of the Flood Study are the hydrologic and hydraulic assessments.
The hydrologic assessment investigated how combinations of rainfall, dam levels, ground conditions and tide influences could merge to create potential flood events within the floodplain. This assessment considered the entire Brisbane River catchment (including the Lockyer Valley and other regions outside of the Brisbane River floodplain).
The hydraulic assessment used the data inputs from the hydrology assessment to model how floodwaters progressed through the Brisbane River floodplain, taking into account terrain characteristics of rivers, creeks and floodplains, and infrastructure such as bridges, stormwater networks, dams and levees. The hydraulic assessment generated flood modelling for the lower Brisbane River downstream of Wivenhoe Dam.
The Flood Study is a regional study and property owners should contact their local council for more specific information relating to flood mapping for individual properties.  Current local flood mapping information is available online at:
Councils will consider the Flood Study information to identify any necessary changes to flood products, tools and policies. Each council will apply the Flood Study to their planning schemes and current development applications according to their own internal policies and procedures, as appropriate. For further information on this, contact your local council.
Flood Study reports and models
Brisbane River Catchment Flood Study reports and models are published by the Queensland Government and are downloadable at the links below.
These hydraulic and hydrologic assessments have been undertaken in response to the Queensland Floods Commission of Inquiry, providing a comprehensive plan to manage Brisbane River flood risk.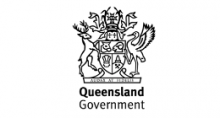 Brisbane River Catchment Flood Study reports and models are published by the Queensland Government on the Business Queensland website at
https://www.business.qld.gov.au/industries/mining-energy-water/water/maps-data/modelling/brisbane-river-catchment