Heritage-listed wall restored on Mount Spec Road
28 June 2021
A heritage-listed drystone wall dating back to the 1930s was removed and reconstructed by hand, one stone at a time, as part of reconstruction works along Mount Spec Road.
During the Great Depression, the then Main Roads Board played a significant role in job relief, with many of the unemployed offered opportunities to work on infrastructure projects including regional roads. Some projects involved building drystone walls, without cement as mortar, which relied on the skill of the builder to make them strong and durable.
Mount Spec Road on the Paluma Range, north of Townsville, experienced multiple landslides and significant slope damage during the 2019 Monsoon Trough flood event. Transport and Main Roads completed landslip repairs at nine sites in late July 2019. In September 2020, further slope stabilisation works commenced at three locations: Twin Falls, Culvert 161 and Windy Corner.
At Twin Falls, water flow across Mount Spec Road had undermined the existing heritage-listed stone pitched retaining wall. Water rushing down the slope scoured out behind the wall, causing a void and resulting in settlement of the wall and a loss of blocks from its top. The settlement of the wall also damaged the guardrail.
Reconstruction works at Twin Falls involved repairing the damaged culvert and heritage-listed headwalls, repairing the heritage-listed stone retaining wall and installing a new guardrail. As part of site preparation, the drystone wall was partially dismantled and stored for later reconstruction. Soil nails were installed, and a concrete retaining wall constructed, incorporating the footings for the new guardrail. The original stones were then hand placed by a stonemason as a facing to the concrete retaining wall. 
To repair landslips at Culvert 161, works included soil nailing, installing strip drainage and reinstating sprayed concrete slope protection.
At Windy Corner, minor slope repairs involved trimming the top of the landslip, installing soil nails and sprayed concrete to the upper portion of the slip, and installing hydromulch and erosion control matting to the lower area. 
Reconstruction works on Mount Spec Road were completed in December 2020.
Eligible reconstruction works were jointly funded by the Commonwealth and Queensland Governments under the Disaster Recovery Funding Arrangements (DRFA).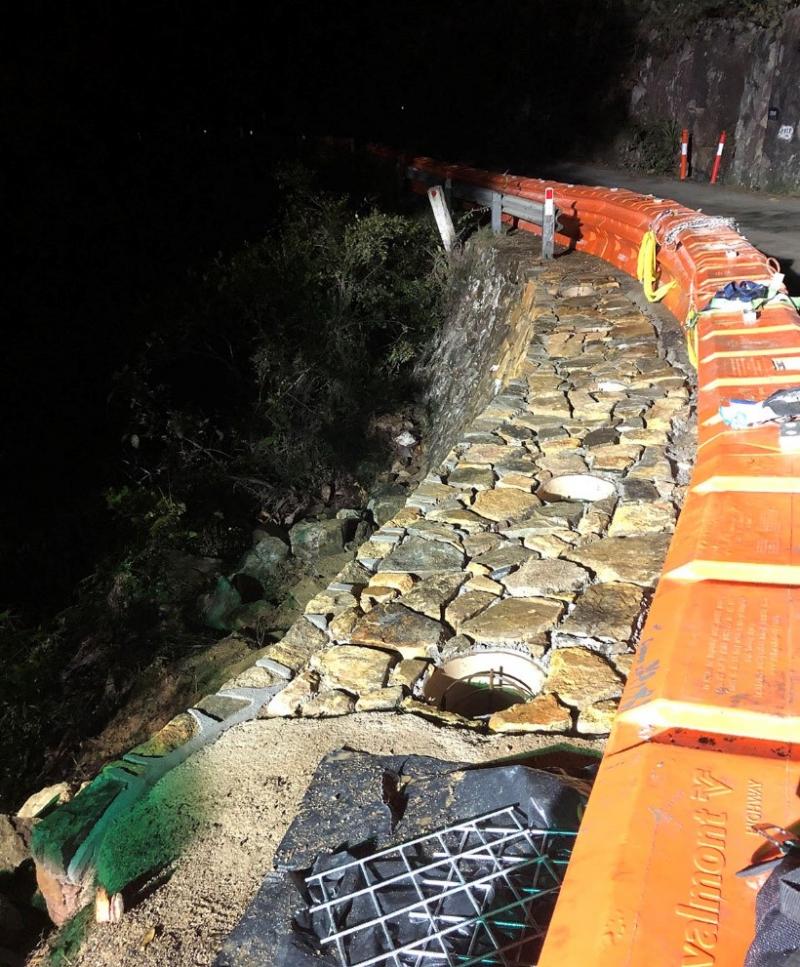 Mount Spec Road – restored drystone wall
1/2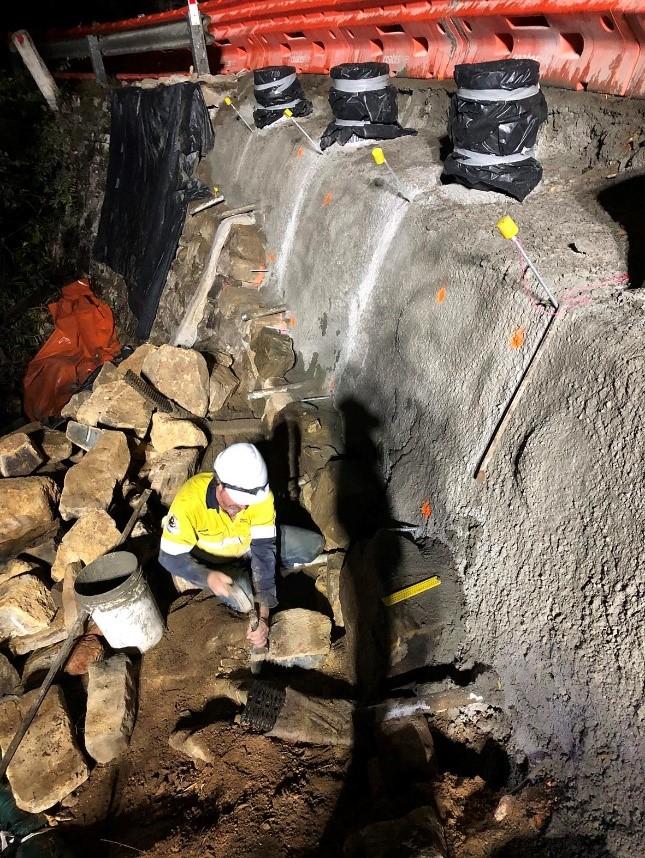 Mount Spec Road – stonemason working on the heritage-listed drystone wall
2/2