Mount Spec Road landslip repairs completed
22 April 2021
Mount Spec Road is the winding access route to the community of Paluma, which was isolated when significant rainfall associated with the North and Far North Queensland Monsoon Trough in late January 2019 caused landslips along the road. This damaged the pavement and blocked the road with debris and large boulders dislodged by the ongoing rain.
As soon as the rain eased, Transport and Main Roads geotechnical engineers started inspecting the landslips to determine the works required to remove the debris and repair the pavement. Once ground conditions allowed, RoadTek mobilised to site and began breaking down large boulders.
By 9 February 2019, the road was safe to reopen to restricted traffic for local residents, with further emergency works enabling the road to reopen to two lanes up to Little Crystal Creek by 22 February.
Nine landslips were identified, with works including removing boulders and stabilising slopes. This included two major sites in the upper section of Mount Spec Road, between Little Crystal Creek and Paluma, where repairs were completed in time to reopen the road for expected traffic over the Easter long weekend in April.
A concrete mixture (fibrecrete) was applied to one high risk site to reduce further erosion. Jute mesh to prevent rock falls was installed at the eight other landslip sites, with hydromulch applied on 31 July to assist with revegetation.
Eligible reconstruction works were jointly funded by the Commonwealth and Queensland Governments under the Disaster Recovery Funding Arrangements (DRFA).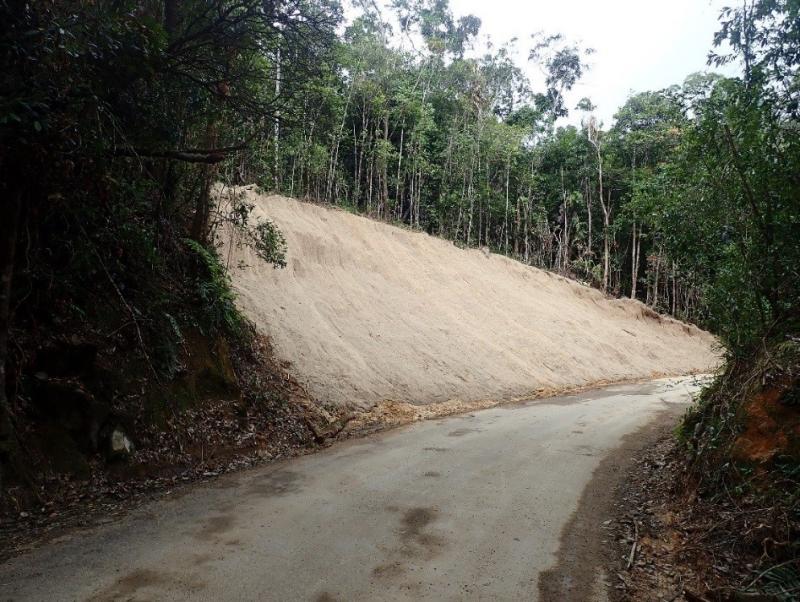 Mount Spec Road – stabilisation site with jute mesh installed
1/2
Mount Spec Road – landslip caused by NFNQ Monsoon Trough event
2/2