Queensland sets national benchmark for floodplain management
10 April 2019
The Brisbane River Strategic Floodplain Management Plan - a collaboration between the QRA, Queensland Government and four local councils has been launched.
This plan sets a national benchmark for floodplain management.
The Strategic Plan builds on the extensive work already undertaken since 2011 by Brisbane City Council, Ipswich City Council, Lockyer Valley Regional Council, Somerset Regional Council, Seqwater and the Queensland Government to better manage flood risk in the region.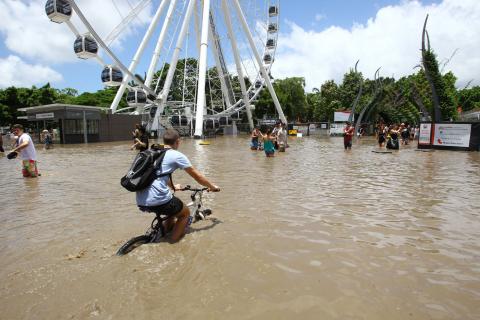 While the Plan was developed for the Brisbane River catchment, it will help communities across Queensland develop strategies to increase resilience to flooding.
One component of the Plan is the development of Flood Resilient Building Guidance for Queensland Homes, a practical guide to help home owners, builders, designers and councils, improve flood resilience of homes.
This guide provides practical steps that can be taken when building or renovating to reduce the impacts and costs of flooding.
The $2.4 million Brisbane River Strategic Floodplain Management Plan was jointly funded by the Queensland Government and stakeholder councils, with the Australian Government providing $375,000 through the Natural Disaster Resilience Program.
The Brisbane River Strategic Floodplain Management Plan is available at www.qra.qld.gov.au/BRCFS  and the Flood Resilient Building Guidance for Queensland Homes is available at https://www.qra.qld.gov.au/resilient-homes