Cape York and Torres Strait Regional Resilience Strategy - Project update
Project purpose
By 2022, every region across Queensland will be part of a locally-led and regionally-coordinated blueprint to strengthen disaster resilience. Regional resilience strategies and local resilience action plans will help to keep Queenslanders safe by providing a coordinated approach to identify and prioritise disaster resilience actions.
Multi-hazard approach
The Regional Resilience Strategy for the Cape York and Torres Strait Region will use a locally led, regionally coordinated and state facilitated approach with multi-sector stakeholder participation to address the following hazards:
cyclone (severe storm and wind) 

bushfire 

flood 

heatwave

pandemic and other hazards

earthquake.
The Strategy will be drawn from on-country engagement with Councils and community members, and focus on the key regional resilience priorities of: 
critical infrastructure – its importance and flow on effects if not functioning;

disruption, isolation – climate and man made 

cultural connection– informed by traditional knowledge, connection to family, landscape and across communities; 

leadership – enabling change and trade-offs; and

biosecurity and food security - threats to what we value and our quality of life.
Steering committee
The Project Steering Committee is comprised of the Torres Cape Indigenous Council Alliance (TCICA) and Torres Strait Islands Regional Council (TSIRC).
Region
The geographic extent of the Cape York and Torres Strait Region Resilience Strategy is the boundaries of the 13 member councils of the TCICA and the TSIRC.
Council partners
Aurukun Shire Council
Cook Shire Council
Hope Vale Aboriginal Shire Council
Kowanyama Aboriginal Shire Council
Lockhart River Aboriginal Shire Council
Mapoon Aboriginal Shire Council
Mornington Shire Council
Napranum Aboriginal Shire Council
Northern Peninsula Area Regional Council
Pormpuraaw Aboriginal Shire Council
Torres Shire Council
Torres Strait Island Regional Council
Weipa Town Authority
Wujal Wujal Aboriginal Shire Council
Progress update
Completed project actions
regional strategy workshop, Weipa (24 June 2021)
regional strategy workshop, Aurukun (23 June 2021)
regional strategy workshop, Mapoon (22 June 2021)
regional strategy workshop, Napranum (21 June 2021)
endorsement of Terms of Reference by the Steering Committee (May 2021)
co-design workshop with partner councils in Cairns (March 2021)
online project briefing TCICA (December 2020)
initial project briefing Executive Officer of TCICA in Cairns (2020).
Next steps
gain endorsement of drafted regional resilience strategy
finalise local resilience action plans
project deliverables include: a community profile; a multi-hazard, multi-sector approach; Queensland Emergency Risk Management (QERMF) Process 1 support as required; Department of Environment and Science Sector Adaptation Plans; a Regional Resilience Strategy; and a Local Action Plan per council.
Stakeholders
The Regional Resilience Strategy will be formulated through information gathering from stakeholders who have the ability to contribute knowledge skills and actions towards resilience improvement. QRA's Resilience team will consult with local government on participation by stakeholders outside their organisations. For the Cape York and Torres Strait Region, the stakeholders may comprise:
Federal  
Torres Strait Regional Authority

Biosecurity Australia
State  
representatives from regional branches of state agencies such as the Department of State Development Infrastructure Local Government and Planning or the Department of Seniors, Disability Services and Aboriginal and Torres Strait Islander Partnerships; Queensland Fire and Emergency Services (QFES); Queensland Police Services;

Department of Communities, Housing and Digital Economy;

 Department of Transport and Main Roads; and Queensland Health

representatives from regional jurisdictions of statewide asset owners or providers such as Telstra and Ergon Energy

representatives from local government bodies such as the Local Government Association of Queensland (LGAQ)

invited representatives with special expertise such as Department of Environment and Science, Land and Sea Rangers, Queensland Parks and Wildlife Service or University experts
Regional 
Torres and Cape Indigenous Councils Alliance (TCICA)

Regional Emergency Management Coordinators (QFES)

Cape York Natural Resource Management (NRM) 

Queensland Reconstruction Authority (QRA) – Regional Liaison or Recovery Officers

Community Enterprise Queensland (CEQ)
Local  
local government staff with responsibilities across the lines of resilience and at various levels of seniority

business, landowners or leaseholders

community groups or enterprises

local and regional traditional owner groups and corporations

local and regional disaster management professionals.
The primary stakeholder group in each local government area is suggested to be the Local Disaster Management Group (LDMG), which should provide a suitable cross-section of those already aware of the disaster resilience issues and challenges in the local areas. 
Map
Cape York and Torres Strait Regional Resilience Strategy - TCICA big map workshop Cairns, March 2021
1/5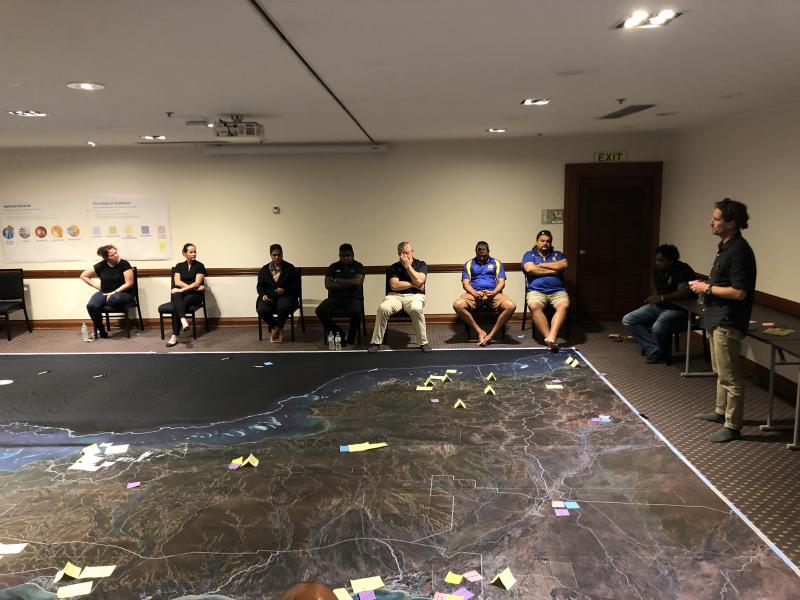 Cape York and Torres Strait Regional Resilience Strategy - TCICA big map workshop Cairns, March 2021
2/5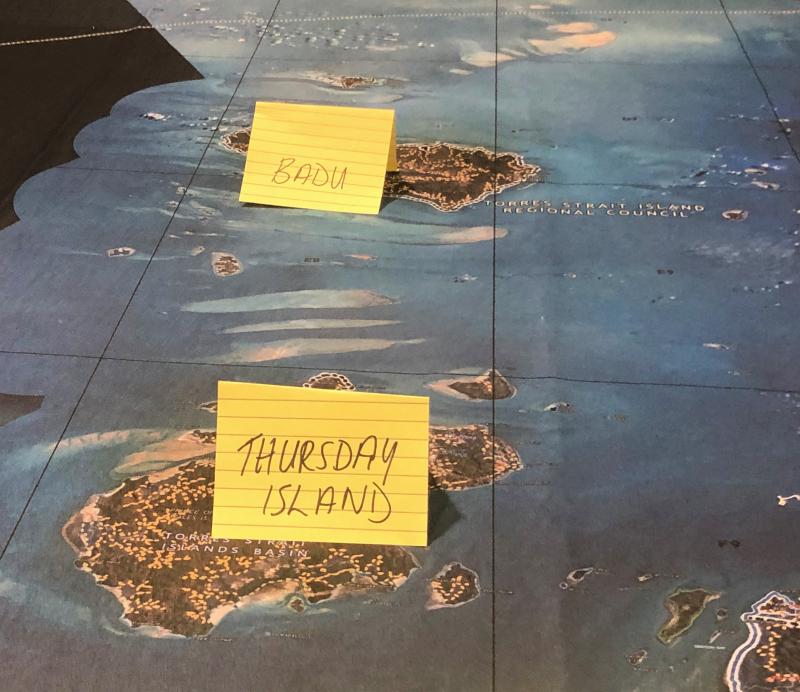 Cape York and Torres Strait Regional Resilience Strategy - TCICA big map workshop Cairns, March 2021
3/5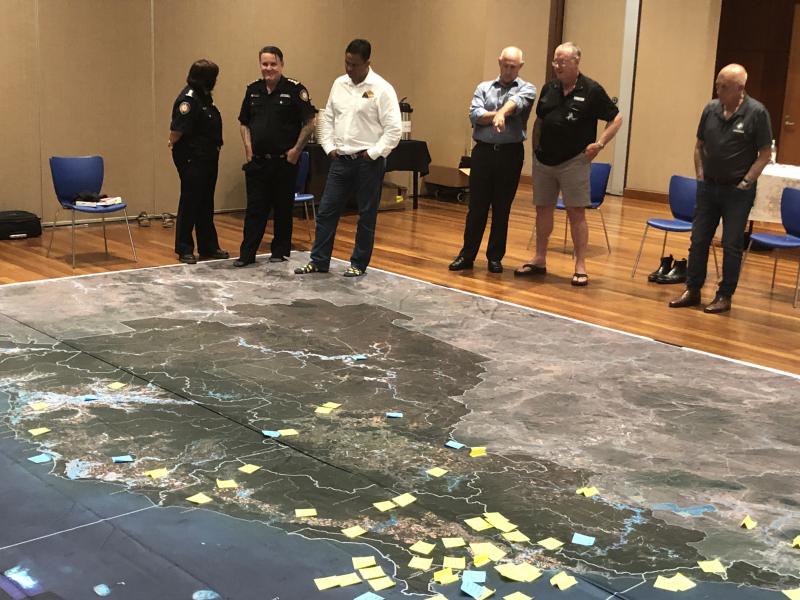 Cape York and Torres Strait Regional Resilience Strategy - TCICA big map workshop Cairns, March 2021
4/5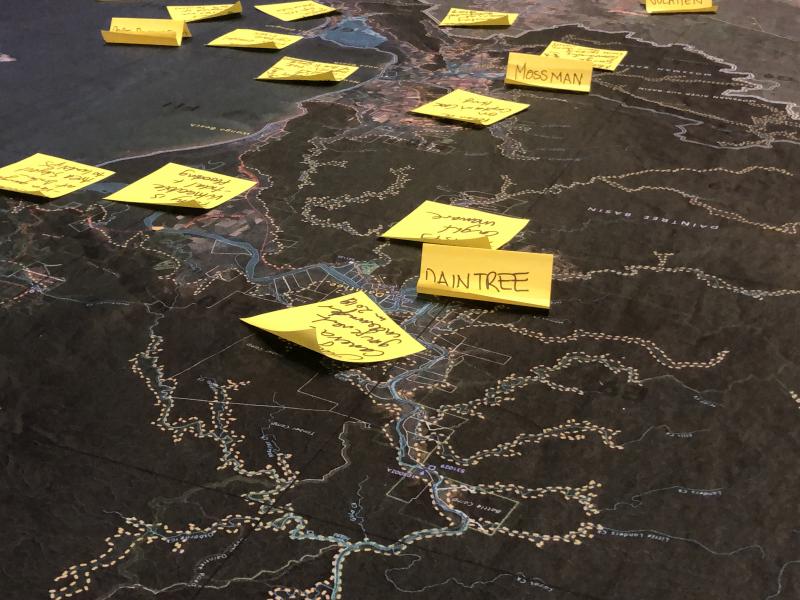 Cape York and Torres Strait Regional Resilience Strategy - TCICA big map workshop Cairns, March 2021
5/5