Flood warning infrastructure
On this page:
About Queensland's Flood Warning Infrastructure Network (FWIN)
Flood waters don't respect boundaries, so it is vital that we work together for the best possible flood warnings. In Queensland, we have more than 3200 rainfall and river gauges that inform statewide flood warnings and forecasts. These flood warning infrastructure assets are owned and operated by more than 60 entities including state and local government, the private sector, and the Bureau of Meteorology.
Queensland Strategic Flood Warning Infrastructure Plan
The Queensland Government is committed ensuring the safety and wellbeing of Queensland communities in flood-prone communities by ensuring they have appropriate warning of flood events, and this includes investment in new and upgraded flood warning infrastructure. 
The Queensland Strategic Flood Warning Infrastructure Plan (2021) is supporting communities to better prepare and respond to flood events, and improve community resilience to flood events, through development of a best practice network of flood warning gauges.
Working together to deliver new flood warning assets for the best possible flood warnings
The Queensland Reconstruction Authority (QRA) has worked with key stakeholders including the Bureau of Meteorology, Department of Transport and Main Roads, and local governments across Queensland to improve Queensland's flood warning infrastructure to help keep our communities safe with timely weather and flood warnings and forecasts, and to reduce the cost of future floods.
In 2021-2022, 180 new flood warning infrastructure assets were delivered for 28 councils as part of the $8 million FWIN project and these are now operational and benefiting communities of the Far North, North West and Townsville and surrounds.
The new FWIN infrastructure is keeping our communities safe by delivering: suitable flood warning infrastructure upgrades to the most appropriate locations throughout the flood-impacted area; improvements to Bureau of Meteorology services to support primary producers and communities; and a range of new assets to support flood warning intelligence, including the use of flood cameras at strategic locations.
Delivery of these new flood warning assets will successfully complete the flood warning investment plans from Mackay, west to Diamantina, and north through to the Gulf of Carpentaria and Cape York. All of the new infrastructure investment will conform to the National Flood Warning Infrastructure Standard, and work aligns with the National Framework for Flood Warning Infrastructure. 
How flood warning infrastructure works: Rain and river gauges, cameras and signs
This 7 minute educational video covers the Queensland Flood Warning Infrastructure Network (FWIN) project for the Far North, North West and Townsville regions. It explains the differences between the four types of flood warning assets being installed for councils, including technology features and specifications, and how they work to provide the best possible flood warnings. Learn how these Rain gauges, Rain /River Towers, Flood Warning Cameras, and Flood Warnings Signs are helping to protect our Queensland communities.
Key statistics for new FWIN assets
Far North Queensland has received 45 new flood warnings assets benefiting 10 LGAs: Cairns; Cassowary Coast; Cook; Douglas; Lockhart River; Mapoon; Mareeba; Pormpuraaw; Torres Strait Island; and Wujul Wujul.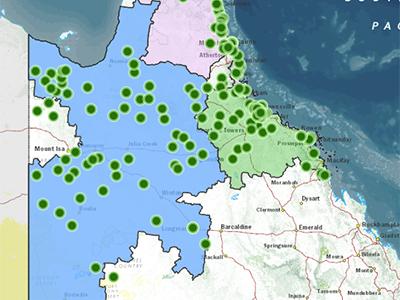 North West Queensland received 74 flood warning assets, comprising 67 new assets and 7 asset upgrades, benefiting 12 LGAs: Boulia; Burke; Carpentaria; Cloncurry; Croydon; Diamantina; Etheridge; Flinders; Longreach; McKinlay; Richmond; Winton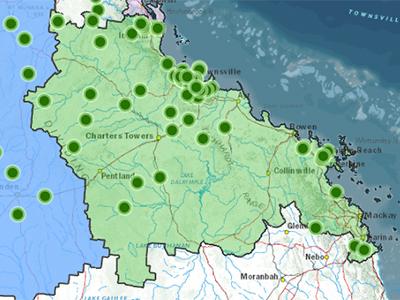 The Townsville and surrounds area has received 61 new flood warning assets benefiting six LGAs: Burdekin; Charters Towers; Mackay; Hinchinbrook; Townsville; and Whitsunday.
The Excel file below outlines the project breakdown of the 180 new flood warning assets per asset type and LGA across each of the three FWIN Project Areas of Operation.
Standards
All of the new FWIN assets conform to the Bureau of Meteorology's National Flood Warning Infrastructure Standard (external link | PDF) and this initiative aligns with the National Framework for Flood Warning Infrastructure.  
Flood cameras
Flood camera infrastructure conforms to the TMR standard, and it is expected the cameras will be incorporated into both the Queensland Traffic website and council disaster dashboards.
Permanent Survey Mark (PSM)
Every river gauge will have a Permanent Survey Mark (PSM) installed by qualified Cadastral Surveyors. PSMs are a registered reference point that provides an accurate description of the location and are displayed as coordinates.
A PSM provides an accurate vertical height known as an Australian Height Datum (AHD) which is the height in metres above sea level. The levels are from the base of the river where the gauge receives its data.  Knowing the AHD allows the Bureau to have an official height of the water that the river gauge is providing.
AHDs are also used to better understand the difference between the height of the water at a gauge and a known reference point that also has an AHD e.g. a bridge deck. Knowing the water and its relationship to the bridge deck, people can make the necessary actions to respond to the event.
PSMs have a numeric identifier and are registered with the Department of Resources Survey Control Database (SCDB).
Funding acknowledgement
This project is supporting recovery following the 2019 North and Far North Queensland Monsoon Trough disaster event and is jointly funded by the Australian and Queensland Governments under the Disaster Recovery Funding Arrangements.